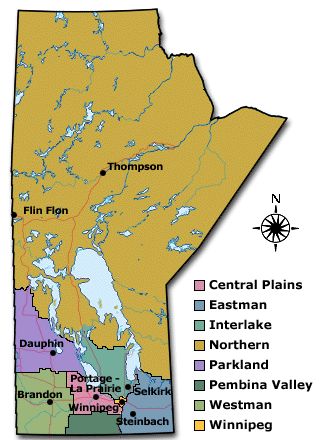 Map is intended for ease of finding campgrounds in regions of interest and is not a precise indication of regional boundary lines
Click on any of the below regions, campgrounds, towns/cities for more detail.
Central Plains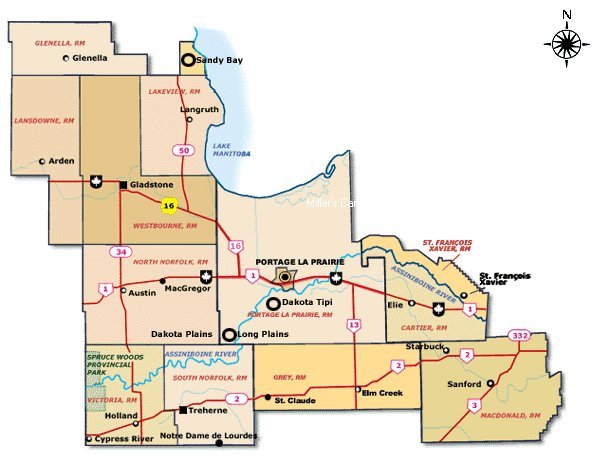 Central Manitoba 
Close your eyes and hear the thunder of the buffalo hooves across this vast prairie; the pounding hooves of a fleeing white horse carrying young lovers from a midnight rendezvous; the creaking of the giant wheels of the Red River ox carts as families move west seeking new beginnings. These are but a few of the "Echoes and Legends" of Manitoba's Central Plains.
Built on a wealth of history, the Central Plains region is rich in contemporary diversity. Build your own "Echoes and Legends" as you visit our communities. Sample our foods, watch our birds, canoe our rivers, hike our trails, camp in our parks, golf our links, sail our lakes, swim our pools and lakes, celebrate our festivals, shop our stores, dine our restaurants, visit our museums, watch our craftspeople, and fill your life with experiences that will become fond memories of time well spent.
Click on a below Central Plains Region Campground for further information
Miller's Camping Resort – Portage la Prairie
Ofty's Riverside Campground – Westbourne
Eastern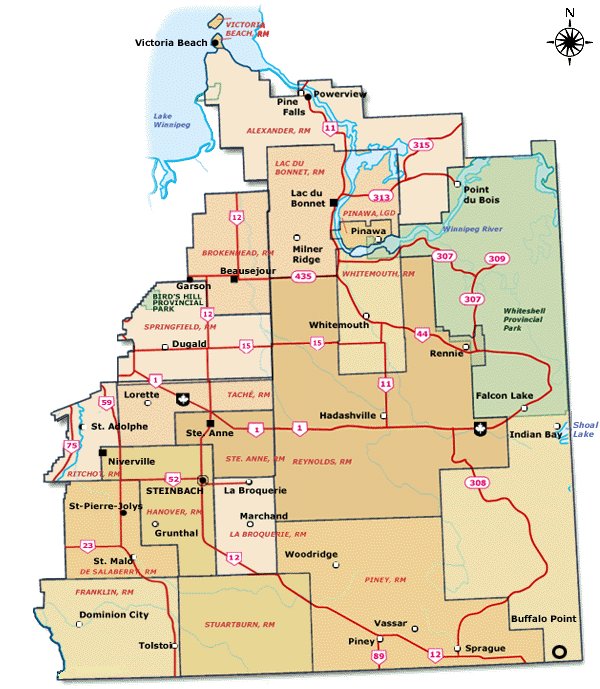 Eastern Manitoba
A land of mysteries – revealing a compassionate heart, an adventurous soul.
The Eastern Manitoba Region, enveloping the lands east of the Red River, Lake Winnipeg and the City of Winnipeg, offers tourists many varied and diverse experiences. The vast and varied landscape ranges from productive, serene farmland to the rugged scapes of the Precambrian Shield to beautiful lakes and major historic river waterways. This variety presents endless opportunities in agri tourism, eco tourism, white water rafting, canoeing, fishing, hunting, camping and sporting opportunities of all types.
The culture is as varied as the landscape and tourists can enjoy the heritage experiences of the Cree and Ojibway First Nations. The immigrants of the late nineteenth century brought their cultures to the region and one can enjoy the Francophone, Ukrainian, Mennonite and Métis history and flavour of the area. Many festivals in the region feature the ethnic nuances of the residents with the museums depicting the history and struggles of the early settlers to this productive yet scenic part of Manitoba.
Click on a below Eastern Region Campground for further information.
Cripple Creek Campground – East Richer
Cherry Hill – Steinbach
Debonair Campground – St. Malo
Lilac Resort Campground & Waterslide Park – Ste. Anne
Pine Tree Campground – Prawda
Rock Garden Campground – Richer
Green Valley RV and Cabins – Grunthal
Whitemouth River Campground – Hadashville
Interlake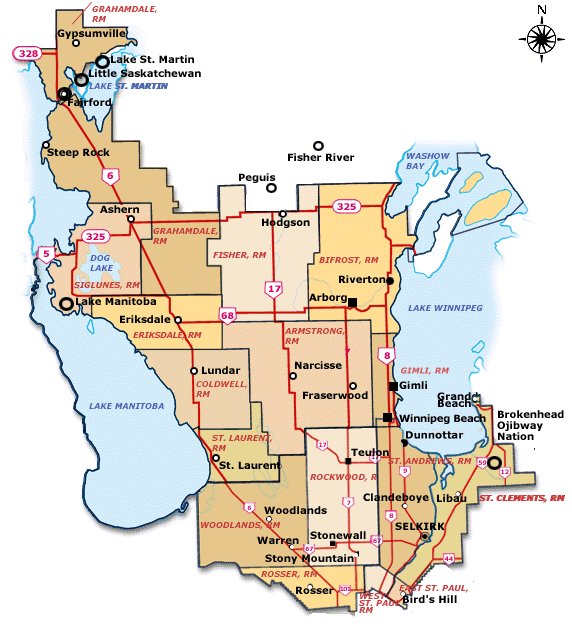 Manitoba's Interlake
Sandy beaches, vast marshlands and the indigenous spirit of generations past. The Interlake region embraces a rich cultural legacy, chronicling Manitoba's Aboriginal roots as well as the early settlers of Icelandic, Ukranian and Scottish descent. Lower Fort Garry National Historic Site is your entry into the colourful and romantic fur trade.
Celebrate with Gimli's Icelandic community at the annual Icelandic festival and discover a proud and resourceful heritage. Hecla Provincial Park's lush forests, rugged shores and fantastic beaches continue to draw vacationers. Nature lovers flock to Oak Hammoch Marsh, a natural habitat dedicated to the preservation of Marsh life. The Narcisse snake pits are considered a national toursist site where garter snakes rule.
Campgrounds abound in the Interlake with many of them using the abundant lakes and rivers as beautiful backdrops. The Interlake – the land between two lakes – promising adventure and romance.
Click on a below Interlake Region Campground for further information.
Grand Palms RV Resort – Grand Beach
Netley Golf Course and Campground – Petersfield
Rubber Ducky Resort and Campground – Warren
Shallow Point Campground – Oak Point
Spruce Sands RV Resort – Arnes
Parkland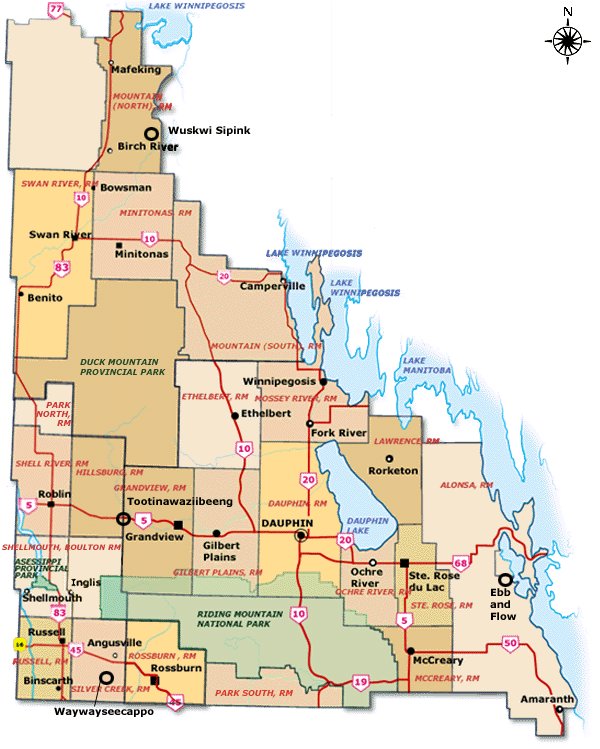 Manitoba's Parkland
Experience our good nature!
Cool lakes, rushing rivers and dense green forests. The Parklands are a precious resource – home to elk, deer, black bear and other magnificent Manitoba wildlife. Bison still roam the range near Lake Audy and Waterhen.
It is a common misconception that Manitoba's Parkland region was so named on account of the many parks to be found here. According to geographers, the term "Parkland" refers to an area where grasslands of the prairies give way to the more densely forested regions of the north.
Spectacular parks and campgrounds lend the region its sense of grandeur and adventure. A land of grand, green spaces – yours to explore.
Click on a below Parkland Region Campground for further information.
Onanole RV Park & Campground – Onanole
Ricker's Campground – Roblin
Pembina Valley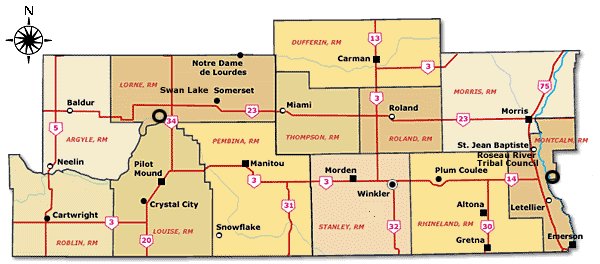 Pembina Valley
This fertile greenbelt is a land of legends, history and diversity – and of course, sea monsters. Dig for ancient fossils of prehistoric marine reptiles, lasso some thrills at a professional rodeo and follow the flightpaths of migrating waterfowl and raptors.
Wander from Delta Marsh and the beaches of Lake Manitoba in the north to the cliffs and fossils of the Manitoba Escarpment in the south along a patchwork of scenic trails and highways.
Hit the links, explore pioneer villages and museums and enjoy the bounty of Manitoba's breadbasket, from golden grain to a cornucopia of pumpkins, peas, potatoes, corn, apples and beans. The welcome mat is always out at festivals, fairs and fall suppers.
Click on a below Pembina Valley Region Campground for further information.
Praire Oak Campground – Emerson
Western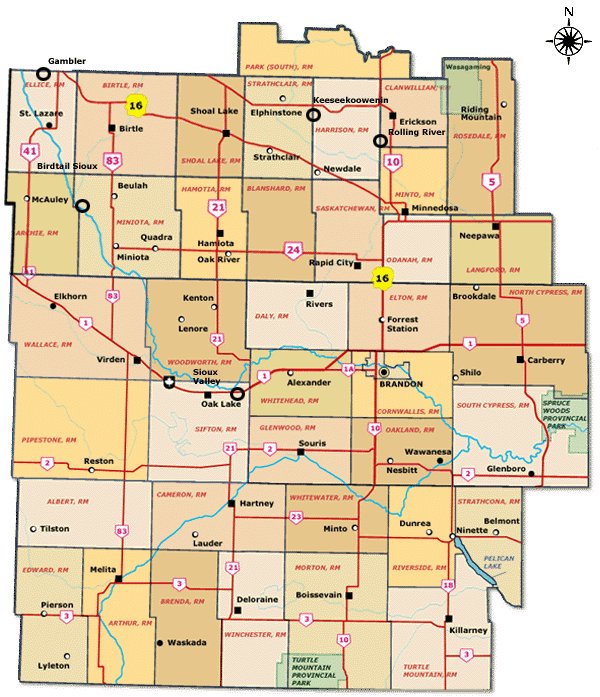 Western Manitoba
Wild and wooly, the Western lands are a study in contrasts. Densely wooded parklands, home to the majestic moose and wood bison, shift effortlessly to reveal long stretches of wide open prairie. The dunes of Spirit Sands blow 30 metres high. The Devils Punch Bowls blue-green waters spring from streams deep beneath the earth. Experience the beauty and serenity of the International Peace Garden. Stop in Neepawa – the World Lily Capital – and home of renowned author Margaret Laurence. Cross the Souris River on Canada's longest free-suspension foot bridge.
Brandon's booming prairie style underscores its reputation as a major economic centre. Home to Brandon University, the provinces second-largest city features top-notch restaurants, theatre, sports, galleries, agricultural fairs and festivals.
The Western lands – where history and nature combine to create a vibrant expanse. A special blend. A special place.
Click on a below Western Region Campground for further information.
Aspen Grove Campground – Oak Lake
Dusty Mile Outfitters – Glenboro
Meadowlark Campground – Brandon
Oak Island Resort – Virden
Pelican Shores RV Park – Ninette
Winnipeg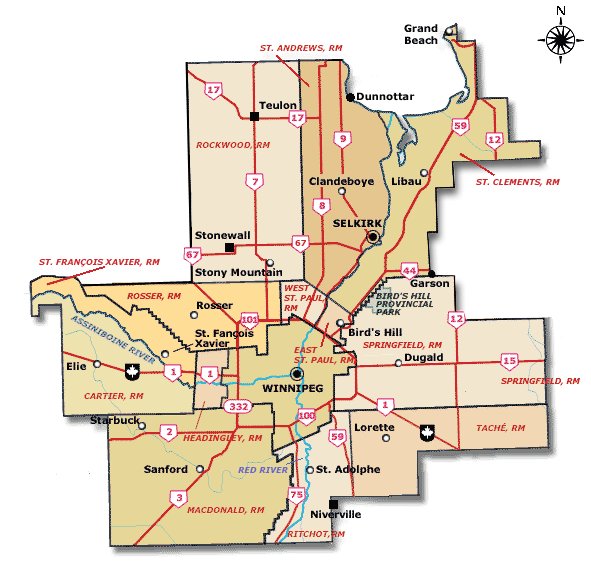 Winnipeg Manitoba
Possibly Canada's most unfairly underrated city, Winnipeg has a multitude of attractions. Visit The Manitoba Museum for a taste of culture, or find a treasure at The Forks, a market centre at the junction of the Assiniboine and Red Rivers, easily Winnipeg's most popular meeting place.
A sharply defined skyline outlines downtown Winnipeg as thousands delight in our capital city's lively, spirited style. A cultural playground beckons with offerings of world-class ballet, theatre, symphony and opera. The hottest casinos, music clubs and restaurants keep pace with a vibrant nightlife. Walk, dine, shop and play at The Forks, a historic junction thats emerged as Winnipeg's favourite meeting place. Take a stroll down the famous riverwalk or watch a live performance on the outdoor stage. Relax and unwind in the serene open spaces of Assiniboine Park. Watch swans on a quiet pond. Smell the fragrant blooms in the lush conservatory or gaze at exotic animals in the park zoo. Winnipeg is renowned for its vibrant multicultural life. Experience the richly layered traditions of our ethnic communities through a variety of festivals, museums, galleries and events.
Click on the below Winnipeg Region Campground for further information.
Arrowhead RV Park – Ile des Chênes
The Oasis – East saint Paul
Town & Country Campground – Winnipeg
Winnipeg West KOA – St. Francois Xavier
To find out more about Manitoba's tourist regions, visit our Links page.