Winnipeg West KOA
St. Francois Xavier, Manitoba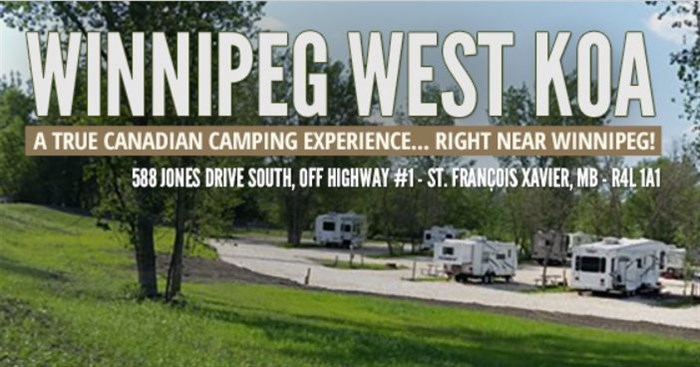 The Winnipeg West KOA can easily be called "the campground of convenience." Located only 10 minutes west of the Perimeter (100/101) on the TransCanada Highway #1, we are an ideal RVing, camping and/or picnic spot for Winnipeg area residents and tourists alike.
We are located within 30 minutes travelling distance to all the major tourism attractions around the city.
Amenities
107 Sites (66 Full Service)
Tent Sites
Nearby Trailer Rentals
Internet Access
Showers
Laundry Facilities
Dump Station
Propane Available
Store
Snack Bar
Pool
Playground
Fishing
Fire Pits
<iframe src="https://www.google.com/maps/embed?pb=!1m18!1m12!1m3!1d20565.138882780924!2d-97.52642936106965!3d49.88674247940154!2m3!1f0!2f0!3f0!3m2!1i1024!2i768!4f13.1!3m3!1m2!1s0x52ea044d075d9623%3A0xa3eba407d64e3bbb!2sWinnipeg+West+KOA!5e0!3m2!1sen!2sca!4v1516218406235" width="100%" height="400" frameborder="0" style="border:0" allowfullscreen></iframe>
Driving Directions:
Located 13km West of Winnipeg on TransCanada Highway #1, take Perimeter Hwy #100 or #101, exit on #1 going west to Brandon. Travel 13km, follow signs.